10 Great WhatsApp tips and features that you should know!
WhatsApp – we all use it these days and it has become a really convenient and cheap way to communicate with friends, family and businesses. The question is, are you using it to it's full potential? Here are 10 great WhatsApp tips and features that you should know and may not be familiar with – they could benefit you a lot!
Tip #1 Backing up your

WhatsApp
Your WhatsApp is most likely filled with useful and important documents, photos and videos, records of correspondence which you cannot afford to lose. It is super important to backup your WhatsApp chats – it is easier than you think to lose content as a result of switching phones or your account getting hacked. To backup:

Navigate to Settings

Select Chat >> Chat Backup

Select Backup to GoogleDrive (android) or iCloud (iPhone)

Opt to set a Daily backup
Tip #2 Pinning Chats
If you swipe left on a message, there is a feature where you can pin the message to the top of your message inbox. This is useful if you have to respond or action a message at a later date as keeps the task at the forefront of your mind.
Tip #3 Stop saving

WhatsApp

 media to your phone
The default setting on WhatsApp is to have all of the photos, silly memes and videos automatically saved to your camera roll. We do not recommend this if you are like most people and get a heap of junk as it will just clog up your photo collection. 
You can turn this feature off by doing the following: 
Navigate to Settings

Select Chat

Un-toggle "Save to Camera Roll"
If you do receive media that you wish to save, take a few seconds to download the photo/video when you receive it. To do this, click on the media, select the download icon and choose to Save the photo/video.
Extra BONUS 

TIP
 – always remember that sharing photos on 

WhatsApp

 significantly reduces the quality, it is much better for Apple users to share photos via AirDrop and for Android users to share in other ways.
Tip #4 Send your self messages!
This is a great idea if you want to remember to do something or to use as a shopping list. Simply start a new message with yourself as the recipient!
Tip #5 BOLD text and italic text in messages
If you want to highlight some key things in a message you can bold text or make it italic.

Simply highlight the desired words

Press Select

Select Format

Choose your desired formatting.
Tip #6 Screen share on

WhatsApp

 video calls
This is a really cool new feature and enables you to share your screen with the people on your video call – very helpful when planning trips, explaining something you are looking at or running through a complex document:
Start your video call and select the screen icon

This will share your screen

Navigate to what you want to share
For the best experience, update to the latest version of WhatsApp. If participants aren't using the latest version, an onscreen prompt will appear to update WhatsApp before screen sharing.

Tip #7 Reply to someone privately in a group chat
We al have so many group chats these days and you don't necessarily want to share your reply to a message with everyone, or disturb everyone.

Hold down on the message you wish to reply to

Select "More…"

Reply Privately
Tip # 8 Edit messages already sent
If you have made a mistake on a message, you don't have to delete it (leaving the recipient intrigued about what you sent!), if you notice within 15 minutes you can edit sent messages by holding down on the message and select "Edit". The edits won't send another notification, only will inlcude the word "edited" on the message.
Tip #9 Add an extra layer of security
To protect your privacy and help prevent your account being hacked, set up these two security steps:

➡️ You can set up a PIN to make your WhatsApp account more secure – turn on 2-step authentication and double down on keeping your account safe.

Navigate to Settings

Select Account

Select Two-Step authentication

Create a PIN code and ensure you remember it – it will be needed occasionally and for setting up on a new device – hence a great feature to prevent your account being hacked.
➡️ Set up screen lock and facial recognition – a great way to secure your messages from prying eyes. To set it up if two fold:

Open Settings on your phone

Navigate to FaceID & Passcode 

Ensure WhatsApp is turned ON under "Other Apps"

Lunch WhatsApp and go to Settings

Select Privacy 

Scroll down and turn "Screen Lock" on – this will now require a facial recognition to open the application and view messages
Tip #10 Make a WhatsApp Sticker
This is a pretty cool tip, especially fun for kids.
Open Photos app and select the photo you want to use


Press down a finger on the desired photo subject and wait for a ripple to go across it (you may need to lift and re-press if nothing happens)

A "Copy/ Share" option will pop up – select COPY
Open 

WhatsApp

 and the message you wish to share it to and press PASTE the sticker

You can then save the sticker and as a favourite by clicking on it immediately after sending and "Add to Favourites"

To re-se the sticker, whilst in your message select the sticker sign in the right side of the text box and your favourites will pop up.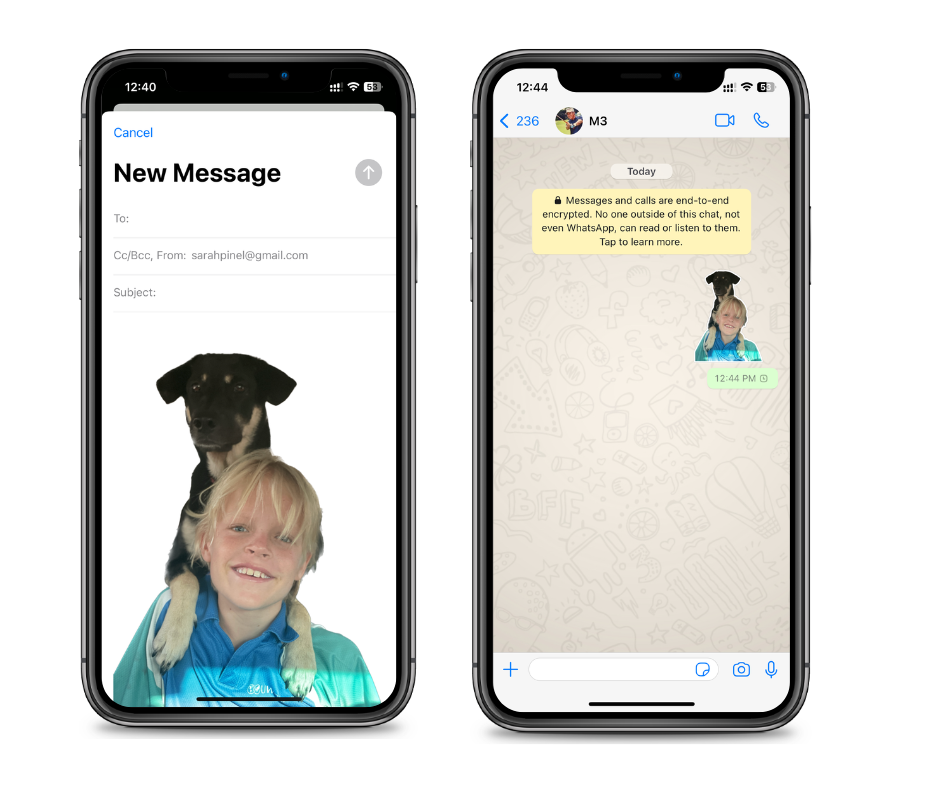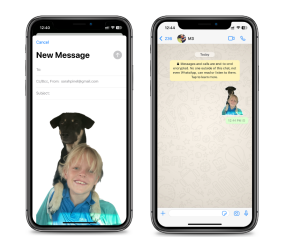 To remove the background of a photo:
Follow steps1-3 above but instead select SHARE

Open the desired place you wish to share it e.g. 

WhatsApp

, email, AirDrop etc
Your PNG image with no background is ready to use – this is a great option for any products you may sell as a business as you can then add the PNG to something like Canva and create your artwork/ social media posts
I hope you found these tips useful!