New computer? 5 tips to help you make the right choice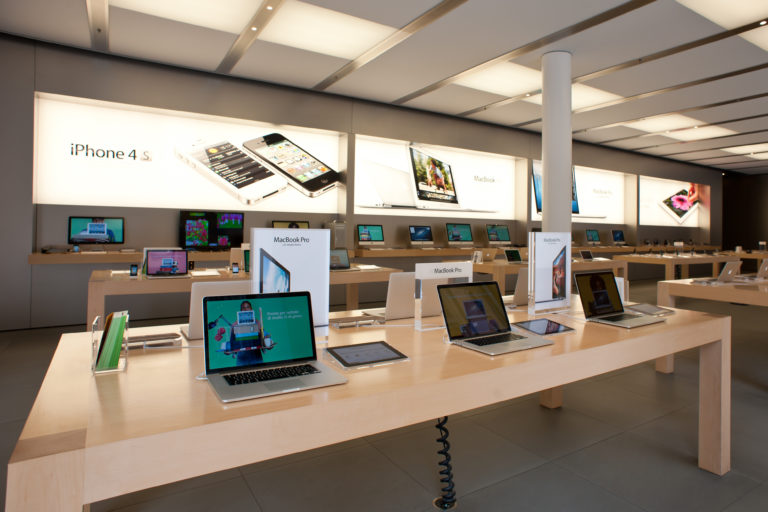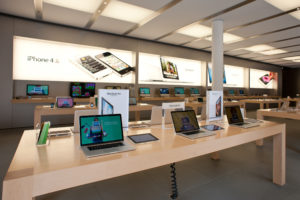 Time to treat yourself to a new computer? Whether you are looking for a computer to run demanding applications/games or for day to day use, with so much choice, picking the right PC (Mac or Windows) can be a daunting task and that is why we are here to help.
The savvy buyer knows that there are five key features to pay attention to when selecting a PC: Processor type; memory; screen size and graphics capabilities; battery life; and storage. Almost all devices are more than capable of handling basic tasks like surfing the Web or reading and writing emails. When you want more out of your PC, pay attention to our short buyer's guide, because these aspects are what make certain models really stand out. Here are our tips that will help you pick the right system (and also some more cost-effective solutions to consider).

1. The Processor
The processor is, and will always be, one of the most important considerations when purchasing a computer. Most computers come with an Intel processor that are powerful enough for the most demanding tasks but use very little power. There are three basic types on the consumer market – Intel® Core™ i7, i5 and i3. If you need a very fast system that is of high performance and which can handle heavy-duty computing tasks like video editing or gaming, look for the Intel® Core™ i7 processor. For most uses, i5 is fast enough and gives a good balance between speed/performance and cost. i3 is sufficient for entry-level (such as your kids) – but beware we find i3 frustratingly slow!
2. Memory (RAM)
Memory is also one of the most important purchasing decisions on a computer. Many people think this is the space to store data but it is actually the memory space the computer uses to access stuff. The more memory in the computer, the more efficient and faster the computer is capable of running. We advise you to buy the most memory your budget can afford. The ideal memory (RAM) is 8GB or 16GB. The absolute minimum should be 4GB.
3. Storage
Now, this is really important to consider. Photos, music, videos, documents… It seems like there's no end to the digital stuff we create these days. We can store some of it in the cloud, there are always essential items and applications we need to keep close at hand and we always recommend having at least two copies of all your data i.e. not just in the Cloud. Many new machines have solid-state drives (SSDs) which are much faster than standard hard drives (as well as much more expensive!). SSDs are not always the best option though as they offer less space for the money, so are less cost-effective. Due to the limited space, they are not ideal for storing large amounts of data (especially big photo libraries). If you are looking to buy a PC to hold all of your photos, media and documents, we recommend a standard hard drive of at least 1TB.
Many of our customers get caught out with this when they buy a new Mac. Their new Mac is not big enough to fit all of their data from their old computer. This is because many of the Macs available come with SSDs and so the default storage is often very small. We, therefore, highly recommend checking the amount of data you have on your old computer and ensuring the new computer has sufficient storage, plus room for growth. There is an option to customise Macs online at purchase to increase the storage capacity.
4. Screen size and graphic capability
Are bigger screens necessarily better? Not always. Larger screens add weight to your system and draw more power. But if you want to keep lots of windows visible at the same time, play a complex game, or edit your photo collection, you need a roomy screen and powerful graphics. Remember screen size is measured diagonally across the part of the screen that lights up. In our opinion, the minimum screen size should be 13" for a laptop and 21" for a desktop.
5. Battery life
There are two ways to learn about the battery life of a system you'd like to buy. It's often listed in the sales material on the web or in the store. If it isn't, check the spec sheet and see if the battery contains two, three, or four cells. The more cells, the more power the battery packs, although each additional cell adds weight to the system. So, there you have it, the five key aspects to consider when you are buying a computer. These apply whether you are buying a Mac or Windows PC.
Another option is to consider refurbished computers 
New Macs really are a big investment.  If the price of a new Apple fills you with horror, don't fret, we sell refurbished Apples which offer a cost-effective solution. All the Mac we sell come with a 3-6 month warranty and most have a new hard drive which we can customise for your need. To see what we have available, click here.
…or upgrade your existing computer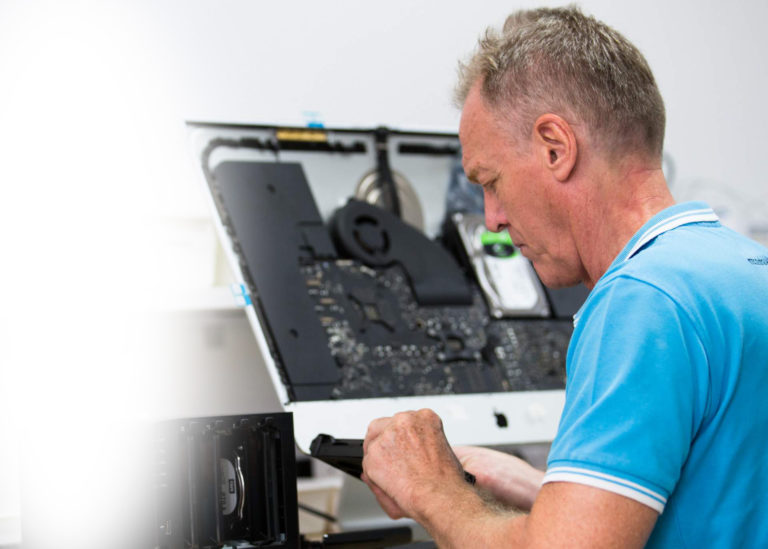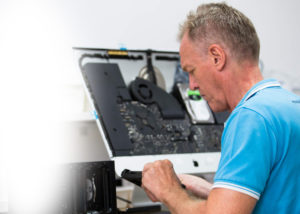 Many people feel that it is time to send their computer to "Computer Heaven" is when they become slow. A common cause of sluggish computers is that the hard drive is beginning to fail. The life span of a hard drive is on average 4 years. If the hard drive fails totally, your computer will not be able to boot up properly but this doesn't have to be the time to say goodbye to your computer. At Tekkie Help, we carry out lots of hardware repairs and upgrade and can replace your hard drive and give your computer a new lease of life.
Even if your computer is running well, you may wish to change the hard drive on your laptop to increase the storage space if your computer is getting full, or you can also upgrade a conventional hard disk drive to a super quick Solid State Drive (SSD) to really boost the performance of your laptop or desktop.
If you would like any further advice on purchasing a new computer, specific for your needs, feel free to give us a call on 81138682. We can also purchase any computer on your behalf if that makes things easier for you.