The Ultimate Checklist for Setting Up Your Business IT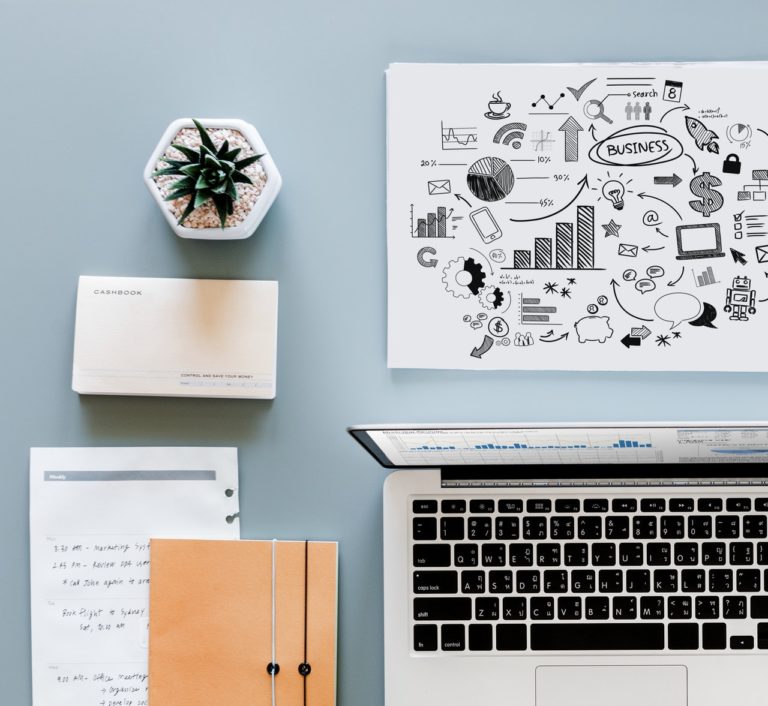 If you are a business owner, or in the process of setting up a new business, now is perhaps the perfect opportunity to have time to take a breath, plan or craft your business strategy, optimise and develop the systems and processes you have in place. IT infrastructure forms the backbone of any business operation. Set up incorrectly or without much consideration, you may find yourself in a difficult position further down the road with sub-optimal equipment, lack of data protection, or an un-scalable setup.
Whether you are starting up a business or are already up and running, this is the ultimate checklist to ensure your IT systems are robust, secure, and scalable:
1. Register your domain (and build a website)
First things first, if you are just setting up, is to choose a company domain and register it. We highly recommend finding an available domain which also has the .com available as it is more flexible and also well known and trusted. Go Daddy or Vodien are both reputable companies to register your domain with and the process is relatively simple.
Not necessarily a next step, but you may wish to build a website, although this is not always necessary – you can check out Click Funnels, which is a great cost-effective way to create a money-generating platform to make direct sales, build leads etc. If you do go down the website route, there are many people in Singapore or across the globe, who can assist. Our team at Tekkie Help.Biz can provide day-to-day website support and make sure it is optimised for Seach Engine Optimisation (SEO), secure and backed up.
2. Choose an email provider and set up your email
Which dental practice would you choose to contact given the following email addresses: info@pearlybrightsmiles.com or pearlybrightsmiles@gmail.com? It's probably safe to assume you'd pick the first one. Research shows that 65% of consumers believe a company-branded email is more credible than a business using a free email account. Although it may initially seem insignificant, there is a bigger takeaway here than just email. It's really all about building credibility and branding; essentially, the impression your business is promoting to the outside world. And for small companies in today's competitive market, branding is how one business will stand out from another.
With a range of different email hosting providers available, how do small businesses choose the best email platform? We recommend choosing either Google's G-Suite or Microsoft 365 – both are cost-effective, secure, and come with a handful of add-on services for storage, video conferencing etc. For more information on what to look for in an email provider check out our blog article on "Best Email Services for Small Businesses".
If you are already set up on email which is hosted on a platform such as Go Daddy, it is certainly not too late to change! The process of migrating emails to different platforms is relatively easy if done with the help of IT professionals.
3. Set up a robust backup
Data loss is everyone's worst nightmare and so it is important to take precautionary steps to minimise the risk of losing precious and valuable data. With both Microsoft 365 and G-Suite, they both offer cloud storage via One Drive and Google Drive respectively, and many companies simply work with just data on the Cloud. This potential issue with this is that the Cloud is actually a synchronising software and NOT a backup solution. For example, if someone were to accidentally or maliciously delete a file or folder, if it goes unnoticed for more than 30-days, that data is lost, unless there is a backup. A back-up is only a backup if there is a minimum of two copies of data.
We always recommend storing a copy of data on a local network-attached storage device (NAS). A NAS is essentially a data storage unit that connects to your network. Typically, for small and medium-sized businesses a NAS unit typically has 2 to 4 hard drives on which you can store all of your data in a safe and easily accessible place for you and your employees. The disks can be configured in such a way that they are mirrored and so if one hard drive fails, you can recover the data from the other disk. This makes a NAS  a robust backup solution.
You can either set the NAS to backup your data in the Cloud or, you can choose to work of the NAS and use the cloud as a backup of the NAS. With a backup, it can be set up so you have versioned backups so that you can go back to a date where you know the document was present and restore it from there. For more information and comparison check out "Cloud Vs. Network-Attached Storage: What are the pros and cons of each?"
4. Protect your business from viruses and malware
Cybercrime is growing at a frightening rate and it is essential that you protect your computers and networks from malicious attacks. it is interesting to know that many viruses and malware are able to penetrate businesses as a direct result of employees doing the wrong thing, for example clicking on attachments or opening infected emails. You can check out  "Cybercrime- How to Protect Your Business"  for tips on how to protect your business, however, we recommend installing enterprise-grade software to provide protection at a much greater level.
End-Pint antivirus protection like ESET has centrally managed virus and malware protection for businesses. Centrally managed software is beneficial as the administrator is in control of security updates and can check each device for threats and ensure the software is up to date. If you want to go one step further, you can install a Firewall on your network for even greater protection, however, this is only really essential for larger businesses and if you are handling very sensitive data.

5. Set up your office/ home office
Whether you are going to work from home or in an office, it will be essential that your Internet connection is strong and stable. If you have a home office, we recommend hard-wiring your computer to an access point so you are getting the fastest connection possible. There are many ways to optimise home networks which you can read about in our recent article "Techniques to Solve Those WiFi Woes". For office networks, if you are setting up or currently experiencing internet issues, we highly recommend installing UniFy equipment which is enterprise-grade, yet at an affordable cost. The access points can be wall or ceiling mounted for a sleek and discreet look.
If you are setting up an office, it is important to think about your IT infrastructure at the planning stage – do you want wired connections, how are you going to get the wiring in place, do you want speakers, security cameras, where are you going to store the equipment? There is lots to think about and so at this stage, seek the advice of IT professionals like us.
6. Carry out regular IT maintenance
Most small and medium-sized businesses don't enjoy the luxury of a dedicated in-house IT team. However, in order to keep systems running smoothly, some tender loving care and attention is required to keep your IT infrastructure ticking over well. For example, NAS, routers and computers need regular physical cleanouts to avoid a build-up of dust (as in this picture!), you need to check for security patches and other updates on IT equipment and computers and check your backup is working.
If you don't have the time or expertise to do this yourself, you may wish to consider outsourcing your IT to a company like Tekkie Help. We provide IT support to businesses under our sister brand Tekkie Help.Biz. We have optimised our services specifically for small and medium-sized businesses and we tailor our solutions to meet the requirements of your business. We are a professional, technically savvy and highly experienced team, dedicated to delivering the best service. We are able to deal with a diverse range of technology ranging from entire network installations and hardware/ software troubleshooting and repairs to consultancy, IT training and hardware procurement. 
Our ad hoc support rates are $130 per hour. For customers on a support plan, they benefit from discounted rates, a dedicated Tekkie Specialist, pro-active system maintenance and monitoring as well as other benefits. 
If you need any help or advice with your business IT, please do not hesitate to contact us on 81138682 or visit www.tekkiehelp.biz for more information.